Salisbury solicitors specialising in personal injury compensation claims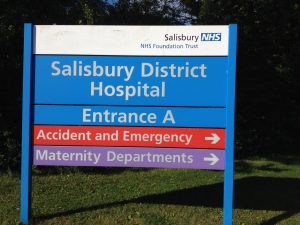 Am I entitled to compensation?
Whether you are at work, in a public place, a shop, restaurant, a building site or undergoing medical treatment, someone, somewhere has a legal responsibility to see to it that you don't get unavoidably hurt. When those responsible people are negligent – whether it's an employer who fails to provide you with protective footwear in a job requiring manual handling of heavy loads, or a shopkeeper who neglects to clean up a slip hazard on the shop floor as soon as possible – they will have to accept liability for any accident you suffer as a result of their negligence.
If you've been the victim of a no fault accident, you could be entitled to make a claim for compensation. Our Salisbury based Personal Injury Solicitors have the specialist expertise and in-depth experience in dealing with accident compensation claims to make a successful claim and win the compensation you are entitled to.
What sort of accidents can I claim compensation for?
Our specialists handle a full range of compensation claims – the injuries where you could be entitled to claim compensation due to another party's negligence or carelessness include:
• Accidents at work
• Road accidents as a vehicle driver, motorcyclist, cyclist, horse rider or pedestrian
• Slips and trips
• Falls from height
• Accidents whilst taking part in sports
• Injuries whilst serving with the military
• Industrial diseases
• Accidents on holiday
• Defective product claim – such as hip replacement recall claims
• Accidents on or around horses
• Holiday accidents
This is not a comprehensive list and if you have been injured in any other way that was beyond your control which was not your fault, contact us for a FREE initial phone assessment and FREE interview to assess if you have a valid claim.
Why select us for your accident compensation claim in Salisbury?
• Bonallack and Bishop are specialist accident claim solicitors, based locally in Salisbury
• We are not a claims management company
• Your case will be handled by an experienced member of our accident claim team – not a faceless claims handler based hundreds of miles away who you never meet
• FREE home and hospital visits available in Salisbury, and throughout Wiltshire, Hampshire and Dorset
• No win no fee arrangements available (so win or lose, you don't need to worry about legal costs)
• FREE no obligation initial phone advice – so call us today on Salisbury [01722] 422300
• FREE first interview
 Your accident claim – the need for a specialist solicitor
There are many law firms who run accident claims, but far too many of them use junior, unqualified or non- specialist staff. To ensure you have the best possible chance of winning the compensation you deserve for your injuries, you need someone who really understands accident claims.
Our team of personal injury solicitors work only on accident compensation and medical negligence claims. Their experience is immense and they are genuine specialists.
Don't just take our word for it about how specialised we are. Our team includes an accredited member of  the Law Society Person Injury Panel
Your accident claim – no need to worry about legal costs
Don't worry about paying legal fees – we can run your claim either using;
• A no win no fee agreement [click here to learn more about no win no fee]
• Cover under any legal expenses insurance you may have
Accident Compensation Claim in Salisbury? Contact our specialist, local solicitors first
• Just call our highly experienced personal injury team on SALISBURY (01722) 4223000 or
• e-mail our Salisbury Solicitors at salisbury@bishopslaw.com
• or complete the online enquiry form below